Exterior Detailing
A clean and protected vehicle will save the finish, increase resale value, and keep it looking new.  Read our blog post, Exterior Auto Detailing, if you want to know more about exterior detailing.
Check out our Client Testimonials. All client feedback is organic (not solicited) and very much appreciated.
Onsite Auto Detailing offers the Exterior Protection 1-Step Detail that is designed to maintain and add protection to the exterior paint and other surfaces. Our Exterior Enhancement Detail & Paint Correction is an add-on service to the Exterior Protection Detail and is designed to improve the richness and gloss of the paint, remove or reduce paint moderate to heavy paint defects (e.g. moderate to heavy swirls, scratches, heavy oxidation), and add protection. We also offer Headlight Restoration.
Recommendations: Choose the 1-Step Exterior Protection Detail (about 3 hours) if your goal is to maintain the exterior and protect the paint finish from etching caused by water spots, bugs, bird droppings, or tree sap, and UV damage (oxidation). The 1-Step Exterior Protection Detail is also a good choice if your goal is to remove very light surface imperfections in the paint (e.g., light stains, light swirls, light haze/oxidation) and you want to enhance the gloss of the paintwork, but are not necessarily concerned with getting all swirls and scratches removed. The 1-Step Exterior Protection Detail is included in our Ultimate Detail Package.
If your goal is paint correction (i.e., remove heavy swirls, marring, and remove/reduce scratches), ask to add on the Exterior Enhancement Detail. Paint correction is a term commonly used by both professional car detailers and car cleaning enthusiasts worldwide to describe the process of restoring and rejuvenating the paintwork of a vehicle, mostly through the elimination of surface imperfections, that dull, oxidize, or haze the surface by reflecting light off in various directions, therefore detracting from a true and proper, clean, sharp, reflection. Paint correction techniques will remove or reduce the effects of oxidation, swirl marks & fine scratches, bird dropping etching & acid rain etching, holograms & buffer trails, and random isolated deep scratches.
Our eco-friendly exterior car wash system uses high-pressure, super-heated steam (about 115 psi between 150° to 167° Fahrenheit) to clean your vehicle. With the combination of steam pressure and heat, it is possible to clean the tightest spaces and fittings that would otherwise be completely inaccessible using a high-pressure washer. The steam will not harm the surface of your vehicle. And since the steam is heated, we rarely need to use chemicals, such as detergents. Using steam also conserves water. It takes less than 2 gallons of water to clean most vehicles. Using steam, no water is wasted and there is no run-off. Even though there is no water run-off, the vehicle is still parked on a wash mat to protect your driveway, parking lot, and the environment from incidental droppings.
Clients frequently ask how often they should have the exterior of their vehicle detailed. How often you detail the exterior of your vehicle is based on your budget, personal preference and attitudes, driving patterns, if the vehicle is garaged, and weather conditions. The exterior look of your vehicle gives the first impression of how well it is maintained. We can help you to determine the frequency during our pre-detailing inspection consultation.
s
Exterior Protection 1-Step Detail
We thoroughly hand-wash the vehicle using steam. The paintwork and glass is decontaminated to remove embedded road grime, tar, sap, light paint overspray, industrial fallout/pollution. All paintwork receives a light polish and wax, with protection that lasts 2 – 3 months, depending on driving conditions and how the vehicle is stored. The tires are dressed with a no sling dressing and the trim is dressed and protected to prevent fading and discoloration. The windows and mirrors are cleaned, inside and out.
Price: Price starts at $210 (plus CT state sales tax). This service usually requires 3 to 4 hours for completion depending upon size and condition of the vehicle. Heavily soiled vehicles may require more time.
Exterior Protection 1-Step Detail Includes

Steam Hand Wash & Dry
Clean Crevices of Body, Emblems, & Moldings
Clean Doorjambs, Trunk Jamb (Liftgate on SUVs), & Fuel Door
Clean & Treat Rubber Seals Around Doors & Trunk (Liftgate on SUVs)
Clean Wheels, Wheel Wells, & Tires
Remove Bugs, Tar, & Road Oils
Paint & Glass Decontamination Clay Bar Treatment
Light Polish & Wax Using Machine
Apply Sealant to Paint Surfaces for 6 – 9 Months of Protection (add $50)
Apply Protectant to Exterior Plastic, Vinyl, & Rubber Trim To Prevent Fading and Discoloration
Polish Exhaust Tip
Polish Wheels & Dress Tires with a No Sling Dressing
Clean Windows & Mirrors, Inside and Out
Does Not Include
No paint correction or polishing to remove oxidation, paint defects, or restore clarity and color back to the paint.
Only addresses light surface imperfections in the paint. Does not address swirls or scratches.
No interior detailing is completed.
No engine or engine compartment cleaning.
No headlight restoration.
s
Exterior Enhancement Detail & Paint Correction
The Exterior Enhancement Detail is an add-on service that builds on top of our Exterior Protection 1-Step Detail to improve the paint condition and shine of your vehicle and add longer-lasting protection. This service is perfect if your vehicle no longer shines like new, has not been thoroughly polished in the past, or you are looking to remove light oxidation, swirls, and other minor imperfections. Paintwork is deeply cleaned and polished using dedicated products with a dual-action polisher and foam pads to remove oxidation, light swirls, and other minor paint imperfections while restoring gloss and shine. The cost of the polymer sealant is included in the Exterior Enhancement Detail.  Due to weather conditions and since our services are completed out of doors, this service is not available between November 1, 2017 and March 31, 2018.
Price: Call for pricing.
Does Not Include
No major paint correction is performed to remove paint defects such as deep scratches or etching.
No interior detailing is completed.
No engine or engine compartment cleaning.
No headlight restoration.
Phone
(203) 584-1594
Hours
Monday to Sunday
9:00 a.m. – 5:00 p.m.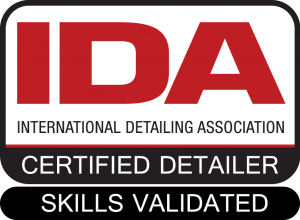 Connect on Facebook
Testimonials
2010 Chevrolet Camaro: "I've been meaning to send this email sooner to tell you how great the Camaro looks! Today was the first time I've washed it since you detailed my car, and I really noticed a difference – it almost took all the fun out of doing the car myself . . ." Debbie, C., Branford, CT, July 2015.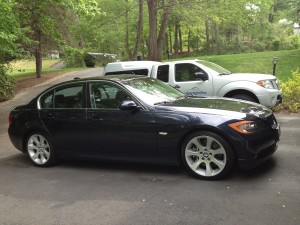 2007 BMW 335: "Thanks Rick! She looks fantastic, exactly as promised. I could not be happier with the results." Joe E., Easton, CT, May 2015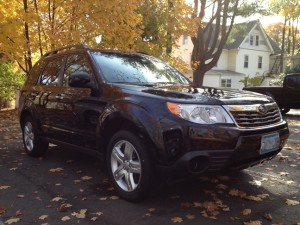 2009 Subaru Forester: "My car looks GREAT – all covered with nice water beads. The dogs didn't understand when I told them to be careful, the back bumper is slippery; Rick did a really good job!!" Jane D., Branford, CT, November 2015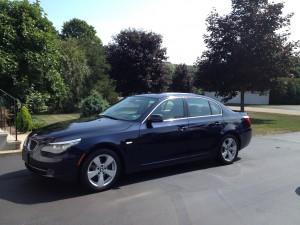 2008 BMW 525xi: "I've never seen my car look so perfect. Looks fantastic!" Nick B., North Branford, CT, August 2014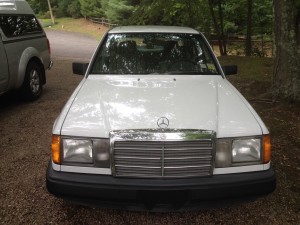 1987 Mercedes 260E: "The car looked great. Thanks for fitting me into your schedule. Now that I know you exist (!), I will definitely be calling on you again." Barry K., Essex, CT, July 2014